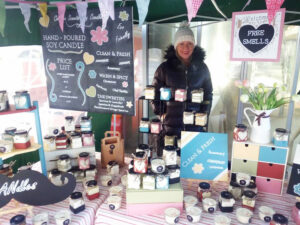 My first ever market 
The Beginning…
My name is Catherine Moloney and I am based in Deansgrange, Dublin, Ireland where, along with my husband David,  I hand craft all our beautiful scented soy candles and organic soaps.   My story started when a love affair with beautiful candles became an expensive habit.    I found myself spending vast amounts of money on a candle obsession gone mad!  After one of my son's brought home a candle made by a friend, I decided to have a go at making them myself.
Lots and lots of research later, I made my very first candle.  I would love to say it was a huge success instantly, however, it wasn't.  Neither was it a disaster though, so I kept trying.  Constant experimenting with essential oil combinations kept my house smelling beautiful if a little mad on occasion. I discovered, for instance, that you have to be very, very careful with Basil and Ginger as they can become quite offensive if not used very sparingly!
1 year and lots of candles later, Common Scents Soy Candles was born.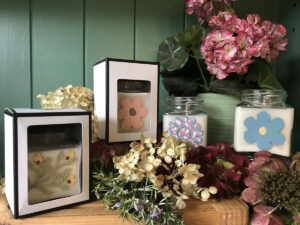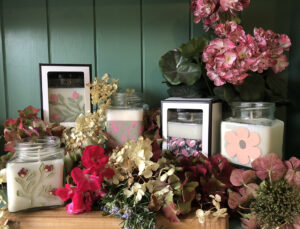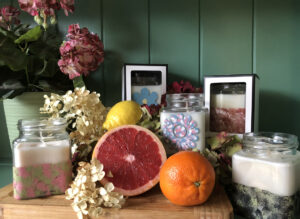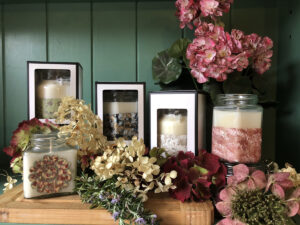 My candles are made from 100% soya wax which is vegan, eco friendly and contains no parabens or paraffin's.  No artificial dyes are used in my candles.
I use a combination of pure essential oils and essences to add perfume.  A 10% scent throw is one of the reasons my candles are so popular.  This scent throw guarantees a beautifully perfumed room without being overpowering.  Soy wax is a longer, cleaner burning wax and  is water soluble so the containers can be cleaned very easily for reuse afterwards.
I hand pour each of my candles into glass containers myself, some of which I hand paint with chalk paint  to add a splash of colour.   Everyone one of them has been lovingly made by me.
Next in line…..bubbles..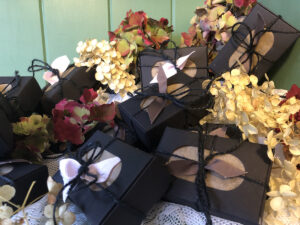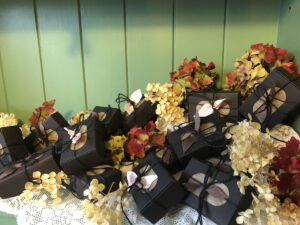 Not content with my soy candle production, I decided to try my hand at  organic soaps.
This time I definitely needed help so I roped my hubby in to help with the soap making end of things. The scientific element of soap making appealed to him and he agreed to let me advise on the scent selection (my favourite part). Between us we tried a few different soap bases and finally decided on a beautiful, organic, glycerine soap with added aloe vera.   We use these as our base and we add only 100% pure essential oils which are gentle and kind and leave both your skin and your bathroom smelling amazing.